Elephant chases away lion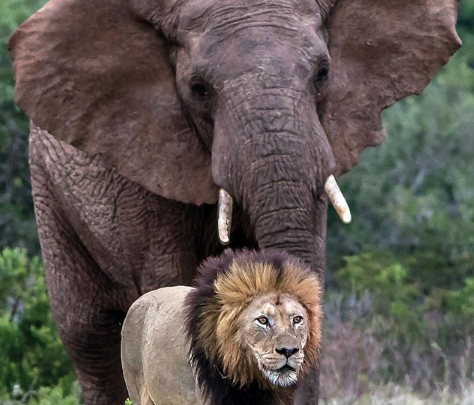 An image of an elephant chasing away a lion has attracted much interest with some that responded to an instagram post suggesting the image may have been photo-shopped as such a scenario would never occur.
Many that viewed and commented on the image that was posted on Africa safari's instagram page, were left in awe by the image which depicts a lion being bullied and eager to vacate a space strongly occupied by a seemingly aggressive elephant.
There have been incidents where elephants chase after lions especially in situations where baby elephants find themselves in danger. Lions typically avoid adult elephants which are too large for the lion to be able to withstand the prospect of being injured.
Apart from scenarios where an elephant is too old, ill or injured, lions are generally in danger of being annihilated by the aggression of elephants. While elephants may have an upper hand there have been cases where brave lions have successfully taken on the elephant with success.
When lions hunt elephants, they usually target youngsters or females, and they almost always attack from behind. They circle round a straggler, jump onto its back and flanks (out of way of the trunk), and drag it to the ground. The never go for a frontal assault, so elephants can thwart their attacks by bunching together. The calves go in the middle; the adults face outwards in a formidable defensive ring of tusks and trunks.