The impact of drugs on today's youths.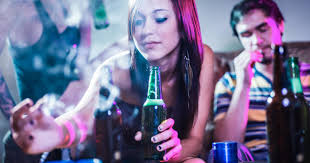 Drugs have generally been known to destroy the lives of many. With the economic hardships facing the country, drugs have unfortunately become more prevalent as more and more people have started turning to drugs to wad off stress.
Drugs such as cocaine and marijuana have started becoming a common feature in local markets and on the streets. Most youths have fallen prey to the drug scourge bedevilling the country.
Another commonly abused drug is bronclear which is being smuggled into the country by a well organized syndicate. This drug is popular because it is cheap. A survey by this publication in the high density surbub of Warren Park revealed that a lot of young lives had been lost due to substance abuse. Most of these youths do not have jobs and after finishing school they hang around in streets thereby engaging in alcohol and drug abuse.
Zimdancehall musician Soul Jah love recently opened up about how drugs had ruined his life, marriage and carrier. He admitted to having been a cocaine addict. Suffice to say Soul Jah love's health has also deteriorated as evidenced by his gaunt looking face and skeletal body.
Drugs are indeed one of the issues affecting the young at heart and if nothing is done to curb the problem, the hen the future of this country will be left hanging in the balance.

Some people have attributed substance abuse to the idolization brought about by certain musi such as zimdancehall and hip hop. They said the lyrics to these songs glorify drugs thereby encouraging youths to indulge in drugs.