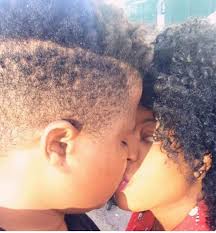 Zim r n b artist Nox Guni has been showing off his new girlfriend on social media. Nox has been posting pictures on social media with his new girlfriend who he seems to be very much attracted to and in love with.
Love is a beautiful thing which was created by God, we all fall in love at a certain time in our lives. Love is one the greatest things to ever happen in a human life.
Nox is a zim r n b artist who is based in S.A and is known for hit songs such
"Ndinonyara ". He is also a producer and beat maker. Nox is a young and multi talented artist.
R n b is not a big genre in Zimbabwe but Nox has managed to put his name out there as an r n b singer and producer.
Recently he posted a picture on his Facebook page kissing with his girlfriend. The picture received a lot of attention on social media. He started posting his new girlfriend mothers day. The two are no doubt a match made in heaven.
This has come at a time of one of Zim's power couples Tytan and Olinda.The two are also known for posting romantic pictures together. We all wish Nox and his new found love a happy and fruitful relationship.