Travel
Chaos reigns supreme at Beitbridge border post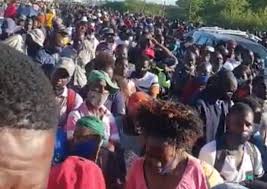 There is a crisis at the Beitbridge boarder post. Reports circulating suggest that people have been stuck for days as they try to make their way back into South Africa from Zimbabwe. Thousands of people had flocked back into the country to spend the festive season with their loved ones. To say the situation at the boarder post is out of control would be an understatement. There is a huge crisis that has left many people fearing the spread of covid 19.
The South African migration officers have also managed to nab over 50 people with fake covid 19 certificates. This has also been another huge cause for concern on the spread of the virus. Hopes are however high that the situation will improve with the lockdown that has since been declared on the Zimbabwean side. What this essentially entails is that the Zimbabwean side of the Beitbridge boarder post will be closed thereby denying travellers a chance to get to the South African side.
Meanwhile two South African nationals have been arrested by the Zimbabwe republic police for attempting to smuggle 15 undocumented Malawians out of Zimbabwe through the Forbes boarder post. The two have since appeared in court facing charges of contravening the immigration act.
South African police have also been hard at work as they fight against illegal migrants from Zimbabwe who cross the crocodile infested Limpopo river. South African authorities have since sent out a chopper to scan the boarder area. Police officers have also been deployed to try and catch the culprits.