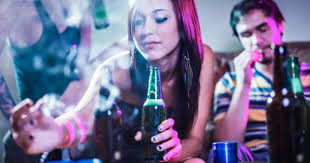 Police have confirmed the arrest of over a hundred teenagers in Bulawayo for engaging in illicit drug and sex fuelled parties called 'vuzu parties'. The arrests were made after schocking details of alcohol and drug abuse had come to the attention of the police.
The teenagers were charged with public nuisance and public drinking. It is alleged that the youthful group was assisted by some adults who purchased alcohol and drugs for them. Police spokesperson Inspector Abednico Ncube said that police has arrested a 28, year old kombi driver who had in his possession alcohol,condoms,mbanje and sex enhancing pills. He was apparently on his way to a vuzu party.
The horrific details of youths engaging in such activities has left people shocked and wondering whether there is any hope for the youths to map out bright futures. In a radio show hosted by radio personality Butterfly, people expressed disappointment over the activities of those arrested. Others pointed out to the fact that some households in Bulawayo are headed by children with their parents having left for greener pastures. These parents then send money on a regular basis and the children end up abusing these funds to satisfy their dark fantasies.
The teenagers who were arrested were between 14 to 24 years old. People aired out their fears over the spread of sexually transmitted diseases through sexual activities at these parties.
The economic situation in Zimbabwe may also be playing a contributory role in these shenanigans. Some children who are supposed to be in school are not at school due to lack of funds. They end up on the streets partaking in criminal activities.