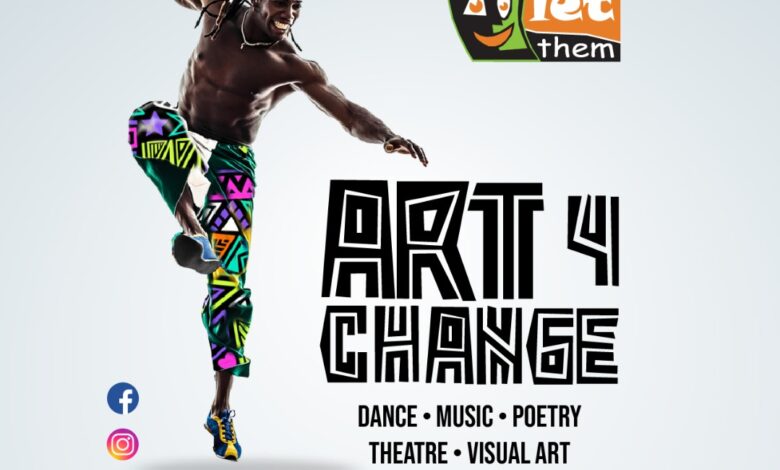 We are pleased to announce that we have partnered with Africalia for a project titled Art for change. Under this program young artists between the ages of 5 and  19 will be  asked to participate in the following five categories, each with its own theme:
Dance (Unity),
Music (Gender Based Violence),
Theatre (Drug/Substance Abuse and Mental Health),
Poetry(Education)
Visual Art (Climate Change).
This project aims to raise awareness on issues affecting the youth in their day to day lives, as well as also give them a voice to address these issues through art. The program will run for five months starting in July.  Each month will have its own genre and theme.
To enter this exciting program participants are required to record video clips of their performances as well as their understanding on the theme for that particular genre. For those interested in performing under the music category, young musicians will be able to submit their music to us. All submissions are to be sent to [email protected] or WhatsApp to 0712 506 506/0731 506 506/0772 506 506. The top five entries will be announced on our social media platforms and they will be professionally recorded by our team.
As a  child-oriented creative, educational and cultural initiative we continue to create platforms for young people to groom and showcase their artistic talent and most importantly use their voices to initiate change and development on issues affecting them. We believe through peer to peer interaction this project is going to shift young people's mindsets, attitudes and choices.
For more information do not hesitate to get hold of our team on the following numbers.
0712 506 506/ 0731 506 506/ 0772 506 506
Festival information is also going to be posted on all our social media platforms:
Facebook Let Them Trust
Instagram Let Them Trust
Website www.letthemtrust.org.zw